All News & Articles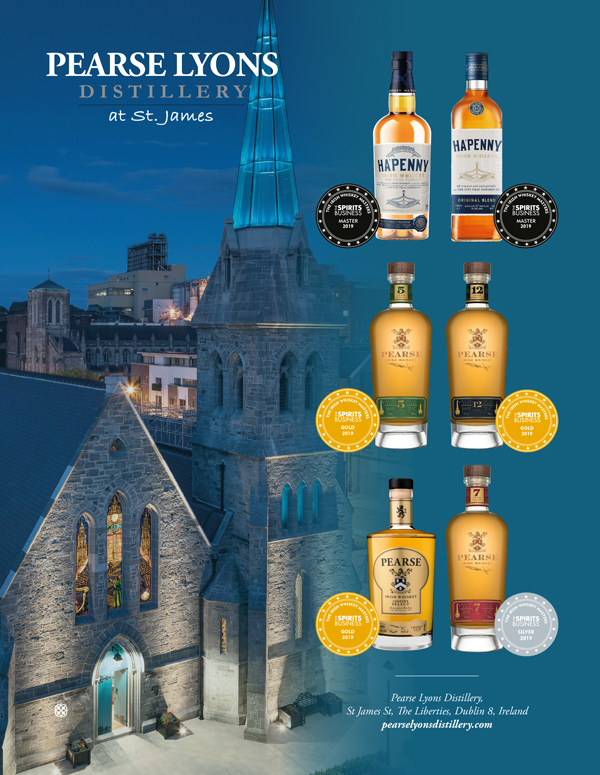 Pearse Lyons Distillery wins big at theIrish Whiskey Masters 2019
August 2019

Pearse Lyons Distillery take home six coveted awards

Pearse Lyons Distillery are delighted to announce they have taken home six medals in the Irish Whiskey Masters 2019. The awards, run by the Spirits Business have become the last word in awarding excellence in the drinks industry. This year there were entries from 18 different Irish Whiskey producers. Judged by category, the entries were blindtasted by a panel of international industry experts. Pearse Lyons Distillery came out with a fantastic spread of medals across the categories. All six whiskeys entered were awarded medals, two of which were awarded the top accolade of Master title. In all, Pearse Whiskey and the Ha'penny Whiskey range received two Masters, three Gold and one Silver Medal. (more…)
---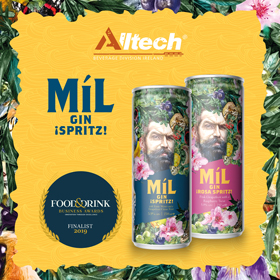 Alltech shortlisted for the Food and Drinks Business of the Year 2019
Alltech Beverage Division Ireland has been shortlisted for the
Food and Drinks Business of the Year 2019 under the category;
Food and Drink Innovation of the Year for MíL Spritz.
Check it out here: http://www.awards.fooddrinkevent.com/finalists-2019-2/
---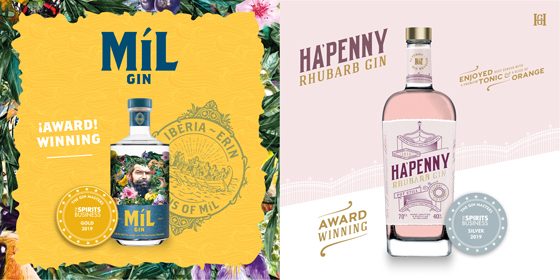 Two Awards at Gin Master's 2019
We have received some very exciting news that two of our gins have taken home some amazing awards at the Gin Master's 2019.
The gins were judged in The London Wall Bar & Kitchen by a distinguished panel of industry peers noted for their superior knowledge within the gin industry. The blind-taste competition saw over 300 entries making the Gin Master Awards 2019 the biggest Global Spirits Masters Awards in history. Now in its 10th year, the awards are hosted by Spirits Business which claims that they've become the gold-standard acknowledgement of excellence in the gin industry. MíL Gin competing in the Contemporary category took home the Gold Medal whilst Ha'Penny Rhubarb took home a Silver Medal in the Flavoured Gin category.
---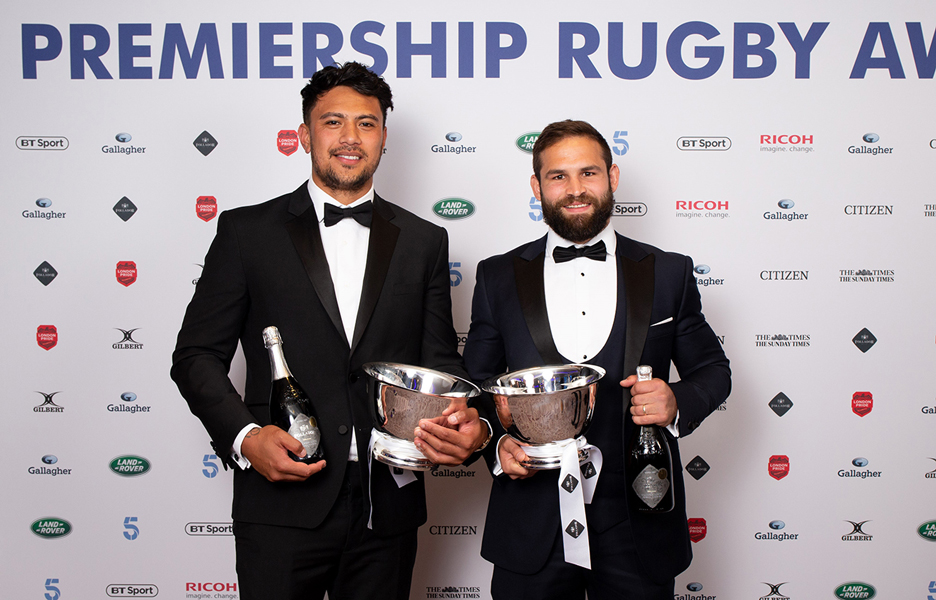 Follador sponsored the top try scorer award at the recent Rugby Premiership Awards
On the left is Denny Solomona who plays for Sale Sharks and on the right Cobus Reinach from Northampton Saints.
(more…)
---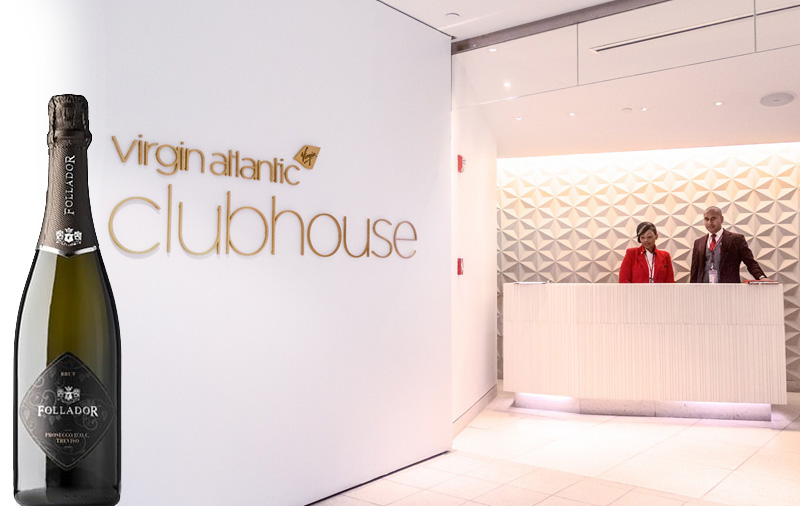 290 bottles of Follador a month for Virgin Atlantic's Upper Class Clubhouse VIP Lounge at London Heathrow
September 2018

Mark O Murphy, Clubhouse Food and Beverage Manager at Virgin Atlantic comments – "We are using around 290 bottles of Follador a month in the Heathrow lounge alone. The total amount of prosecco poured through the 10 lounges globally per month is around 600 bottles." This speaks for itself on the popularity and quality of the Follador brand. (more…)
---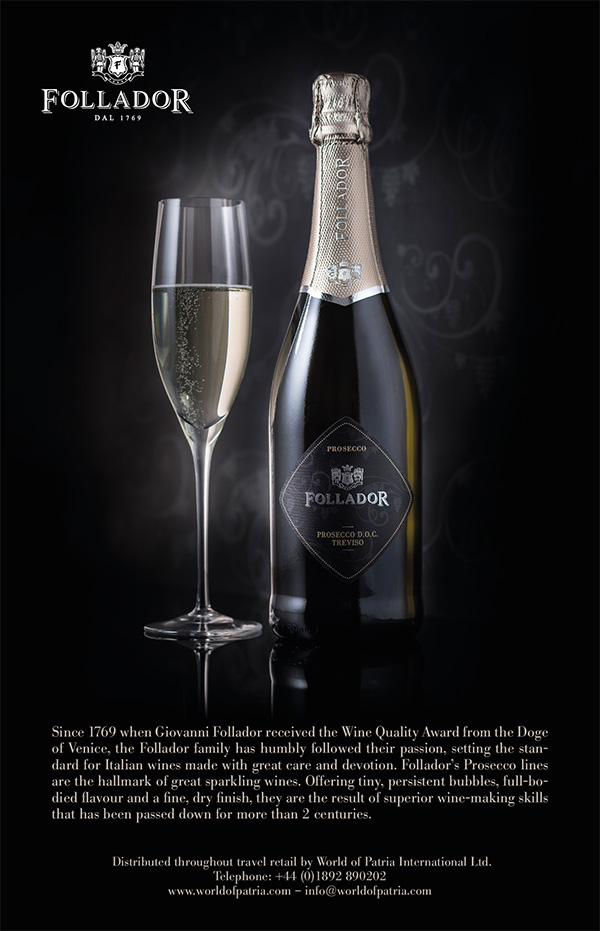 Follador Treviso arriving in Virgin Airport Lounges in July
May 2016

We are delighted to announce that with effect from 1st July 2016 we are supplying Virgin Airport Lounges with their house pour prosecco – the delicious Follador Treviso!

Since 1769 when Giovanni Follador received the Wine Quality Award from the Doge of Venice, the Follador family has humbly followed their passion, setting the standard for Italian wines made with great care and devotion. Follador's Prosecco lines are the hallmark of great sparkling wines. Offering tiny, persistent bubbles, full-bodied flavour and a fine, dry finish, they are the result of superior wine-making skills that has been passed down for more than 2 centuries. (more…)
---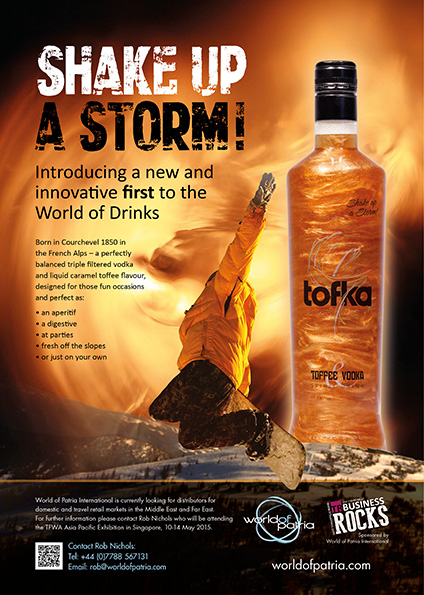 Taste it at TRBusiness Rocks
April 2015

Rob Nichols, Managing Director of World of Patria International, will be attending the TRBusiness Rocks event in Singapore on 10 May 2015. Whay not come along and taste it for yourself.

A new and innovative first to the World of Drinks, Tofka was born in Courchevel 1850 in the French Alps – a perfectly balanced triple filtered vodka and liquid caramel toffee flavour and perfect as:
– an aperitif
– a digestive
– at parties
– fresh off the slopes
– or just on your own
---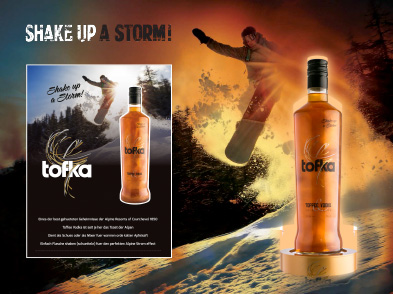 An innovative first in the drinks sector shakes up a storm
January 2015

Babco UK launches a new drink to the market that's creating the perfect storm.

Tofka is an eclectic fusion of smooth tasting vodka infused with the mellow tones of toffee offering the consumer a premium blend of exquisite tastes coupled with a truly theatrical drinking experience.

Behind the bar, a bespoke promotional device swirls the golden liquid fusion within a Tofka bottle – accentuating the premium values of the brand within the on-trade environment. Each listing is supported with a bespoke device to promote the brand to the consumer at the point of sale. (more…)
---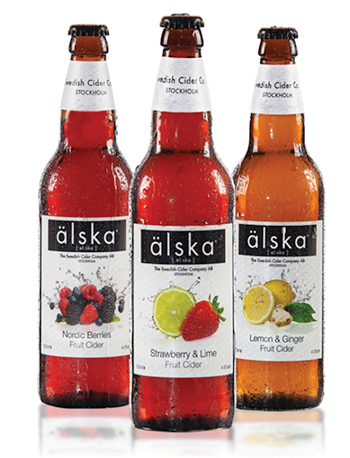 TFWA WORLD EXHIBITION PREVIEW: A touch of Stockholm hits the World of Patria stand with its new alska fruit cider
August 2014

At TFWA World Exhibition this year, experienced wine and spirits distributor World of Patria International will be headlining its latest edition to its range of alcoholic beverages; alska cider. Already hugely popular in domestic markets, the new fruit cider will be adding a touch of Stockholm to its WOPI stand (Blue village, G13).

Translated as love: love cider, love alska, the cider is available to travel retail/duty free globally exclusive from WOPI.

Available in a distinctive sleek 33cl can the stylish attractive packaging gives this product a high standout value. The use of the icon 'a' gives this cider a unique brand identity, its confident, attractive look communicates fruit and refreshment. With a subtle, fruity and refreshing taste, alska is highly appealing to the female 'millennial' drinker; the product is subtly fruity, less sweet in an attractive premium package designed to be more travel friendly. (more…)
---
Nuance partners with World Of Patria International to introduce Uisge Source "the drop that makes the dram"
September 2013

Uisge Source waters make it possible for whisky lovers to get the very best from their single malt Scotch whisky by adding one of three specially-selected spring waters from sources close to distilleries in key whisky regions of Scotland. Available to travel retail markets from World Of Patria International (WOPI), single 100 ml bottles from the Islay, Highland and Speyside whisky regions and a Three Regions Selection pack are to be trialled exclusively by Nuance at Zurich International Airport from later this month.
---
New quality mark for Prosecco DOC is welcomed by Follador
March 2012

As of January of this year DOC (Denominazione di Origine Controllata e Garantita/ Denomination of Origin Controlled and Guaranteed) production Prosecco wines will be able to use a specific neck seal, making a clear quality statement to the consumer, whilst also expressing the identity of the area from which it comes.
Prosecco DOC is wine produced from grapes grown in Veneto and the Friuli, Venezia, Giulia, regions and in ten Italian provinces: Treviso (where Follador is based), Belluno, Gorizia, Padua, Pordenone, Trieste, Udine, Venice and Vicenza. (more…)
---
WORLD OF PATRIA BRINGS SUPER-PREMIUM PORTFOLIO TO THE AMERICAS
February 2012

World of Patria International (WOPI) is introducing its specially selected portfolio of premium and super-premium spirits and wines to the Americas market at this year's Duty Free Show of the Americas. Exhibiting for the first time (booth 1300), WOPI will be launching a number of brands to travel retail within the Americas for the very first time. In addition, the company is giving one lucky visitor the opportunity to win a bottle of The Last Drop 1960 Blended Scotch Whisky,  with a suggested retail price of $2,700. (more…)
---
WORLD OF PATRIA TAKES CHARGE IN ORLANDO
January 2012

World of Patria International has diversified its product range with two new sophisticated charging items from powerpacksales.com. The new line will be introduced at the Duty Free Show of the Americas in March (booth 1300).

Yes our forte is as a travel retail distributor of premium and super premium spirits and wines, along with beer, but we are also representing Fazer Confectionery and Ted's Cigars in specific regions and do feel strongly that we are in a strong position to develop our business to become over time a one-stop cross-category shop, says WOPI director Andy Butcher. It's not something we are (more…)
---