TFWA WORLD EXHIBITION PREVIEW: A touch of Stockholm hits the World of Patria stand with its new alska fruit cider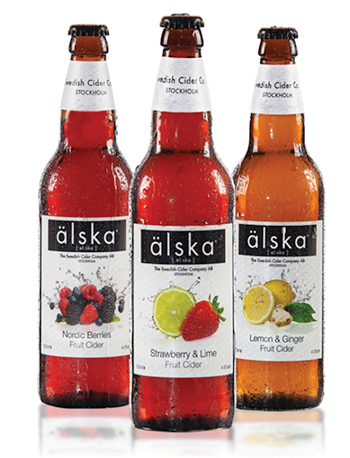 At TFWA World Exhibition this year, experienced wine and spirits distributor World of Patria International will be headlining its latest edition to its range of alcoholic beverages; alska cider. Already hugely popular in domestic markets, the new fruit cider will be adding a touch of Stockholm to its WOPI stand (Blue village, G13).
Translated as love: love cider, love alska, the cider is available to travel retail/duty free globally exclusive from WOPI.
Available in a distinctive sleek 33cl can the stylish attractive packaging gives this product a high standout value. The use of the icon 'a' gives this cider a unique brand identity, its confident, attractive look communicates fruit and refreshment. With a subtle, fruity and refreshing taste, alska is highly appealing to the female 'millennial' drinker; the product is subtly fruity, less sweet in an attractive premium package designed to be more travel friendly.
Rob Nichols, Managing Director WOPI comments, "Over the past couple of years we have seen a real trend emerging with regards to flavoured cider, especially within the female population. alska is the perfect solution to this trend and gives us a real advantage in the travel retail market, as there isn't anything like this out there. The sleek packaging is definitely its greatest USP, the combination of a great flavoured cider and also a small, feminine friendly can (rather than a bottle) is sure to appeal to both female travellers and airlines."
Available in three different flavours including:

Nordic Berry
The smell of fresh, juicy wild Nordic berries with the subtle undertones of pear combine wondrously in this semi-sweet cider to produce a slightly drier finish on the palate. Perfect chilled and poured straight onto ice.




Lemon & Ginger
The distinctively tangy and tart flavour of lemons, combined with ginger produces a really refreshing drink for any occasion. Best served over ice with a wedge of fruit.




Strawberry & Lime
The combination of zesty lime and strawberries is perfect when you are looking for a truly refreshing taste. With a subtle hint of sweetness, this is best served over ice with a sprig of mint.
Notes to the editor
About World of Patria International World of Patria is a specialist, wine, beer, spirit and skincare distributor. It was founded in March 2006 by Rob Nicholas to target the expatriate fraternity living in Europe. This expanded to cover large sections of the travel retail and duty free markets shortly after its inception. provides them with a cost-effective and diverse portfolio enabling them to become leaders in their own market.