Pearse Lyons Distillery wins big at theIrish Whiskey Masters 2019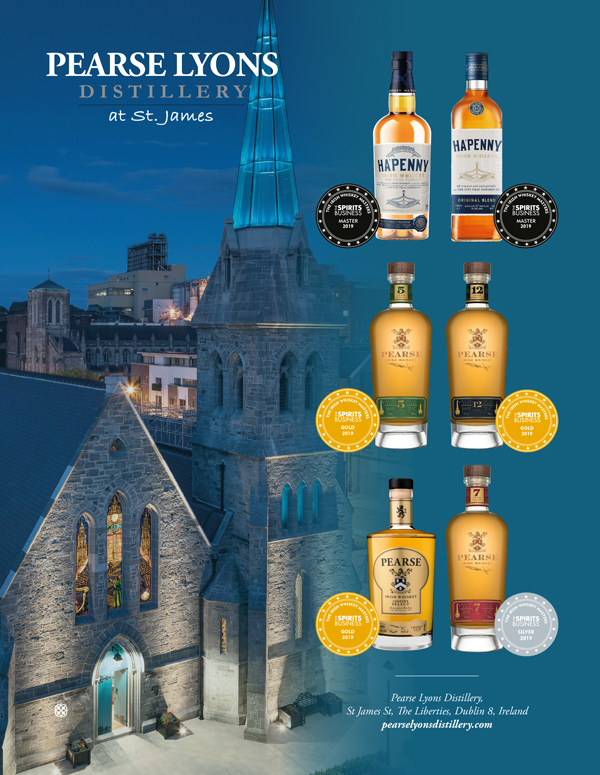 Pearse Lyons Distillery take home six coveted awards
Pearse Lyons Distillery are delighted to announce they have taken home six medals in the Irish Whiskey Masters 2019. The awards, run by the Spirits Business have become the last word in awarding excellence in the drinks industry. This year there were entries from 18 different Irish Whiskey producers. Judged by category, the entries were blindtasted by a panel of international industry experts. Pearse Lyons Distillery came out with a fantastic spread of medals across the categories. All six whiskeys entered were awarded medals, two of which were awarded the top accolade of Master title. In all, Pearse Whiskey and the Ha'penny Whiskey range received two Masters, three Gold and one Silver Medal.
Global Spirits Brand Ambassador Conor Ryan says, "Dr Pearse Lyons was a pioneer of the new wave of Irish Whiskey Distillers. He began distilling Irish Whiskey in 2012, resulting in us having our own quality stocks of aged whiskey. For our core range to have performed so well using these whiskeys is fantastic. We look forward to bringing exiting new editions we have been working on to the market soon."
Commenting on the result, CEO and Owner Dr. Mark Lyons says "We are delighted to have received these awards. It is a great honour to my father's legacy that the whiskeys from Pearse Lyons Distillery have performed so well alongside our peers in the Irish Whiskey industry."
It's an exciting time for the distillery, having also recently been awarded Best Dublin Tourism Experience Under 100,000 Visitors at the Irish Tourism Industry Awards 2019. In operation since 2017, Pearse Lyons Distillery has quickly become a can't-miss experience for both tourists and locals.
In addition to the whiskeys, the distillery has been busy producing an array of gins for the Ha'penny Spirits brand and the award winning Míl – both of which have been extremely well received.
The Awards and Whiskeys are detailed below:
Master – Blended
Ha'penny Original Whiskey – 40% ABV
Our Ha'penny Original Whiskey is a very interesting and complex blend of Malt and Grain Irish Whiskeys. The Malt is a mixture of Sherry bodega and Bourbon cask matured malt. The grain is a rare make up of a mixture of both corn and Irish wheat grain Whiskeys, both matured in first fill Bourbon casks.
Master – Blended Premium
Ha'penny Four Cask – 43% ABV
Ha'penny Four Cask Irish Whiskey was created using four different cask types and two styles of whiskey. The Whiskey is a combination Port Pipe Malt, Bourbon Barrel Malt, Sherry Butt Grain & Double Charred Barrel Grain.
Gold – Blended Premium
Pearse 5 Year Original – 43% ABV
Pearse Original is a malt and grain whiskey blend, aged in former Bourbon barrels and Kentucky Bourbon Barrel aged Stout Barrels for 5 to 7 years.
Gold – Blended Super Premium
Pearse Coopers Select – 42% ABV
This Irish Whiskey is a malt and grain blend that the whiskey was first aged in Bourbon casks for four years. The Malt and Grain Whiskey was then vatted together and re-casked into first fill Sherry barrels. This vatted blend was then aged for over four years.
Gold – Single Malt Premium
Pearse 12 Years Founders Choice – 43% ABV
Pearse Founders Choice is a 12 year old Single Malt aged in former Bourbon barrels. Then in 2014 the Whiskey was re casked into freshly emptied Town Branch Bourbon barrels.
Silver – Blended Premium
Pearse 7 Years Distillers Choice – 43% ABV
Pearse Distillers Choice is a malt forward, malt and grain Whiskey blend aged in a combination of former Bourbon, Kentucky Bourbon Barrel Ales Casks and Sherry barrels for 7-9 years.